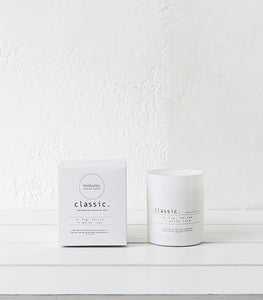 Loobylou / Classic White Candle / Fig, Fejoa & White Rose
REGULAR PRICE $79.00 NZD SALE
or 6 payments from $13.16

More info
or make 4 interest-free payments of $19.75 fortnightly with

More info
Loobylou / Classic White Candle / Fig, Fejoa & White Rose
Fig and Feijoa, two similarly shaped, but incredibly different fruits. The subtle taste of a fig belies the strong almost floral fragrance. Feijoa, a sharp fruit, often referred to aptly as 'pineapple guava' is a very unique and earthy, and definitely a dividing scent. Both fruits are softened and sweetened by the gentle white rose, which gives clarity - yet distinction to all three. One of our favourite blends to date.
Loobylou candles are hand-poured in Sydney, Australia.
Using only the highest quality natural soy wax, these candles won't release toxins or harm the environment. All the wicks are 100% lead-free cotton to ensure a safe and subtle burn. The essential oils used are of the highest perfume grade.
350ml